Balise Car Wash Loyalty Club

JOIN OUR LOYALTY CAR WASH CLUB TO ENJOY UNLIMITED ULTIMATE CAR WASHES FOR JUST $29.95/MONTH!
Did you know that buying or leasing a new Honda from us at Balise Honda qualifies you to join our Loyalty Car Wash Club for just $29.95 per month!?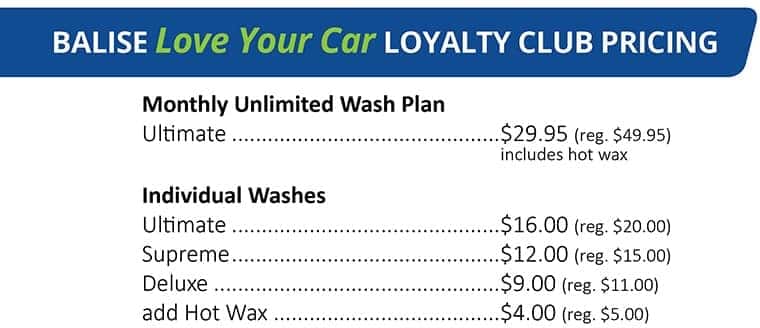 As a part of this exclusive loyalty club, you'll receive Unlimited Ultimate washes at our Balise Riverdale Car Wash and Balise Columbus Ave Car Wash! Bringing your new vehicle to either of our Western Mass car washes on a regular basis will keep your car looking new no matter how long you own the vehicle. We want you to know we're thinking about you and your Balise vehicle long after the initial purchase.
As a Balise vehicle owner, you're able to take advantage of our exclusive Loyalty Car Wash Club pricing on Unlimited Ultimate car washes for just $29.95 per month, allowing you to save 40% off of regular price, or enjoy discounts on individual washes. Like we said, it's just another way we can keep your car in great shape at a low price.
If you're ready to take advantage of our Loyalty Car Wash Club, we welcome you to fill out our quick information form online and we'll contact you through email with a receipt and proof of purchase that you can redeem here at Balise Car Wash for Unlimited Ultimate car washes today!