2023 Honda Civic Type R for Sale in West Springfield, MA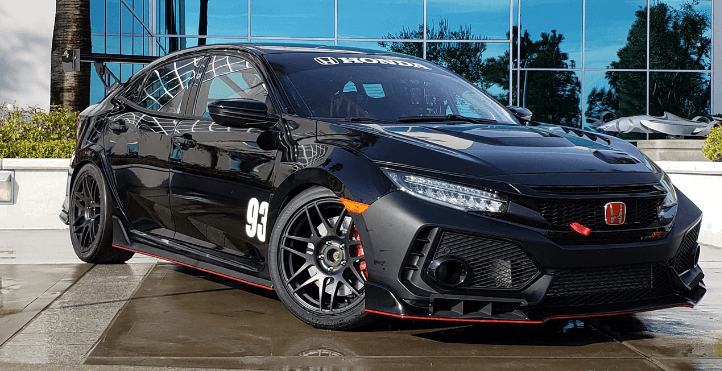 Overview
Since first appearing in 1997, the Civic Type R has helped establish Honda's credentials for affordable performance—it's a hot hatch that evokes grins and enthusiasm. The 2023 Civic Type R carries forward the automaker's successful formula of upgrading its iconic compact car with a performance-tuned engine, a more responsive suspension, and elevating other supporting components.
Based on the all-new eleventh-generation Civic, the newest Type R marks the sixth version of this model. But it's only the second Civic Type R to be available in the U.S.; the first edition available stateside was based on the tenth-generation Civic and went on sale in 2017.
It's significant that 2023 will mark the 30th year of the Type R variant (which was first used for the related Acuras) and the 50th anniversary of the storied Civic model. Honda is reserving complete details about the 2023 Civic Type R closer to the fall on-sale date, but here's a preview based on available information.
Already Setting Records
The 2023 Civic Type R will soon appear in showrooms with a record-setting achievement already under its belt. It set a new front-wheel-drive production vehicle track record at the Suzuka Circuit, the site of the Formula 1 Honda Japanese Grand Prix 2022; a feat that confirms the car's status as the best-performing Civic Type R ever.
Performance-Engineered Powertrain
We'll have to wait for specific engine information, but Honda promises this car will be the most powerful Type R ever. That means it will beat the engine output of the previous model, which stands at 306 horsepower and 295 lb.-ft. of torque. Honda tells us that the turbocharged 2.0-liter four-cylinder will be paired with a rev-matching, six-speed manual transmission. As is tradition, Type R models only come with a three-pedal setup.
Track-Ready Aerodynamics
Thanks to a lower and wider aerodynamic design, the new Type R offers a sleek and dynamic exterior that coincides with what's under the hood. The signature rear spoiler and a redesigned rear bumper increase downforce, while enhanced body panels and larger front fender grills improve airflow and reduce drag.
Also unique to the Type R are wider rear doors and a distinctive tri-tip exhaust configuration. Another standout feature is a honeycomb-pattern front grille that mimics the dashboard mesh. In addition to Championship White, a famed Type R-exclusive color, buyers can also choose from Rallye Red, Boost Blue, Crystal Black Pearl, or Sonic Grey Pearl.
Driver-Focused Interior
Starting with the highly regarded cabin from the latest Civic hatchback, Honda adds unique touches to enhance the driving experience. Classic Type R red covers the seats and trim, along with red accent stitching and trim. And Honda uses a suede-like upholstery for the seats to reduce body slippage during spirited driving. Capping off the interior is a numbered Type R plate mounted on the dash.
Civic Type R drivers will also have access to extensive performance information. A new +R driving mode details engine rpm, rev indicators, and gear position. At the same time, a data logger records vehicle activities, including lap times and driving videos.
We appreciate your interest in our inventory, and we're sorry we don't have exactly what you're searching for at this time. Please complete the form below to let us know what you're looking for, or please call us at 413-306-3034.